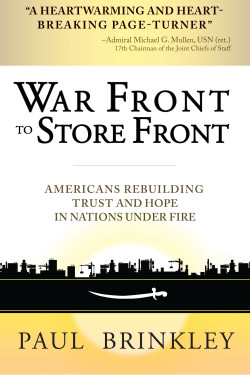 Business colleagues, family members and friends often asked me what it was like to work with the military, particularly inside the Pentagon. "War Front to Store Front: Americans Rebuilding Trust and Hope In Nations Under Fire" is my best effort to answer those questions and to shine a spotlight on the remarkable work of a team of patriotic American business leaders, farmers, geologists, and engineers to revitalize the war-torn economies of Iraq and Afghanistan.
This is the story of how a team of hundreds of volunteers supported by a small Pentagon staff was able to achieve success in the midst of America's many operational failures, and create hundreds of thousands of jobs in areas long written off as hopeless by the civilian bureaucracy.
Today is the release date for this important historical record and roadmap for more effective engagement in war-ravaged countries.
My goal in writing this story was to create a sense of the possible – a hopeful vision for effectively engaging the world, at a time when it is easy to despair about the state of our government and its ability to respond effectively to the challenges of the day.
Please sign up here so we can stay in touch. I want to hear your thoughts and hopefully see you at an upcoming launch event in your area.